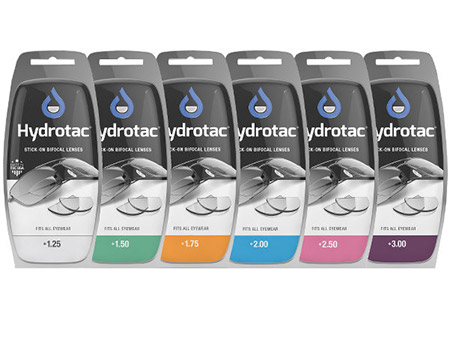 Stick-On Bifocal
More about our stick-on bifocal lenses...
These D shape stick-on reading lenses transform sunglasses, goggles, diving masks and clear lens glasses into instant reading glasses. Hydrotac stick-on bifocals are available in strengths from +1.25 to +1.50. The soft pliable lenses need no adhesives. These stick on lenses are removable and reusable, leave no sticky residue, and can be customised to any size or shape by trimming with scissors. Use these bifocal stick-ons on your favourite pair of sunglasses for lazy summer days reading in the garden or on the beach. You could also consider our range of reading sunglasses for a permanent solution. Tiger Specs is a family run business that has been carving out an excellent reputation in online eyewear retailing for over a decade. We haven't lasted that long by offering inferior products. We always strive to bring you exceptional build quality and all glasses are CE certified. Lookout for bargain offers, clearance lines and our long-standing offer to discount your bill by £5 when you buy any 2 pairs of specs. Follow us on Social Media for all the latest updates.
Why are Tiger Specs best for reading glasses?
Suitable for reading and close work, at Tiger Specs we strive to offer the best choice of reading glasses online and frequently update our range with new styles. Whether you are looking for specialist specs such as computer glasses, the latest designer brands or simply superb value ready readers, we believe we have you covered. We stock a wide variety of reading strengths from clear lens (+0.00) up to +5.00 and quarter powers are also available. Every pair is supplied with a matching case as standard and all orders placed before 3PM on working days are dispatched the same day. For an even more unbeatable deal, why not take advantage of our fabulous ongoing offer: on all our glasses buy any 2 & get £5 off!