Many people often neglect their eyes until there is a problem, and then realise how important their eye health is and how much is effected with its deterioration.
In a modern world where we are faced with new viruses, new threats and new ways of living simple tips to help improve and maintain your eye health might become invaluable against the fight of other illnesses in the news currently such as CoronaVirus (COVID-19).

TIP 1: EAT A HEALTHY BALANCED DIET: CAN MY DIET EFFECT MY EYESIGHT?
Bausch & Lomb suggest eating a healthy balanced diet, rich in antioxidant food, with vitamins A and C; such as leafy green vegetables and fish can help. They continue that many foods especially flaxseed and oily fish such as salmon contain essential omega-3 fatty acids that are important to the health of the macula, which is the part of the eye responsible for central vision.
High-fat diets can cause deposits that contract blood flow in the arteries, the eyes are especially sensitive to this given the small size of the blood vessels that feed them. Macular degeneration can be avoided  and slowed down with a nutrient rich diet.
A healthy, balanced diet will also aid in your general health and ability to fight other virus' or illness' such as CoronaVirus and the lasting effects these may have if you do not have a healthy balanced diet with the antioxidants and vitamins your body requires.

TIP 2: REGULAR EYE TESTS: HOW OFTEN DO I NEED TO GET MY EYES CHECKED?
The NHS website recommends that you should get your eyes tested every 2 years (More often if advised by your ophthalmic practitioner or optometrist) This is not only to check if a new prescription of glasses is required but also to spot any early signs of eye conditions you may not be aware of such as glaucoma and diabetic retinopathy which is where the retina becomes damaged as a complication of diabetes, if caught early enough these can be successfully treated and damage delayed.

TIP 3: HAND WASHING AND NOT TOUCHING EYES: HOW TO PREVENT SPREADING ILLNESS?
All About Vision have recently produced an article about the potential link between coronavirus and our eyes and if it could be passed on through the eye. The conclusion to the lengthy article was that as with all virus', common colds and flu illness, thorough hand washing was a key preventative measure, as was not touching the face, mouth, nose or eyes.
Bausch & Lomb reiterate the 'clean hands' mantra, emphasising that contact lens wearers in particular must adhere to washing their hands with a mild soap for 20 seconds or more and drying with a clean lint free towel. Some germs and bacteria that come from hands can cause eye infections such as bacterial conjunctivitis. When you touch your eye whatever is on your finger tip is transferred directly onto your eyes surface. Bausch & Lomb also suggest this is one way colds can be passed on.
@theprivatenurse has produced some very informative images in light of the CoronaVirus outbreak, the hand washing images are very useful, not only for use in the fight against CoronaVirus but also in the fight for good eye health.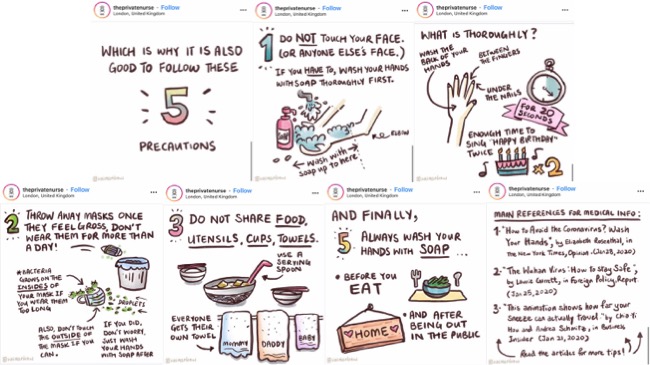 TIP 4: WEAR SUNGLASSES: DO I HAVE TO WEAR SUNGLASSES?
To protect your eyes from harmful ultraviolet (UV) light choose sunglasses with both UVA and UVB protection. Also wearing a hat with a brim will greatly reduce the amount of UV radiation slipping around the side of your sunglasses. Large framed sunglasses also help to reduce UV exposure of the delicate skin around the eyes and can help in the fight against skin cancer. 
Sunglasses help protect your eyes from conditions that stem from eye damage. These include cataracts, macular degeneration, and pterygium; a growth of tissue over the white part of the eye. Pterygiums can lead to astigmatism, which can cause blurred vision.
Polarised sunglasses can reduce glare when driving, and also protect the eyes from UV damage.
All About Vision suggest that wearing some form of glasses or eye protection may also stop other virus' entering through the eye, or air borne germs entering the body via the eye.

TIP 5: DEVICES AND BLUE LIGHT: CAN BLUE LIGHT CAUSE EYE STRAIN?
Bausch & Lomb suggest you're probably using digital devices for hours each day at work and at home. These devices are exposing your eyes to high energy blue light. It's called blue light because the wavelengths emitted are near the bluer part of the spectrum. Lutein & Zeaxanthin are eye nutrients that are concentrated in the macula and help filter blue light. Lutein and Zeaxanthin cannot be produced by our bodies on their own, so they must be obtained through diet and/or supplements. There are other ways in which you can help minimise Blue Light exposure and relive eye strain;
Keep your computer screen within 20″-24″ of your eye.
Adjust lighting to minimize glare on the screen.
Blink frequently.
Take a break every 20 minutes to focus on an object 20 feet away for 20 seconds.
Use Blue Light Glasses to block out the blue light when using such devices

These are our top 5 tips to improve and maintain good eye and general health in todays changing climate. Please note these tips are collaborative advice only from varying sources, please if you require any further information about any of the medical references consult your doctor or optometrist.
REFERENCES: NHS Website, All About Vision, Bausch & Lomb, Health Line, WebMD, @therpivatenurse